Dison BC1500A Cooler Drug Vaccine Interferon Insulin Car Blood Refrigerated Box
Item No.:BC1500A
The item located in Sydney, Australia We ship to you only 5-7 days, 3 years warranty. No Shipping Cost, No VAT. The price is all included.
Buy it Now: AUD899.00
FREE Shipping
Manufacturer Specifications:
Introduction:
Portable for vaccine, biological, blood, specimen or other heat-sensitive medication distribution and turnover on outdoors
Suitable for individual, immunization stations, health centers, CDC, Bureau of Animal Husbandry, etc.
Application:
2-8°C vaccine fridge with battery, perfect for interferon, vaccine protect
Micro medical fridge mainly used for vaccine, interferon, biological, blood or other medication has strict temperature requirement storing and transportation.
SUITABLE FOR: Emergency, home care, cold chain, etc.
Features:
◆Support AC110~240V, DC12~24V, 7.4V battery
◆Keep 2-8'C under ambient 32'C
◆1.5L big capacity, portable, only 3.5kg
◆LCD temp display, interchangeable between 'C and 'F
◆Antifreeze, thermoelectric cooling
◆Energy saving
◆Can work continuously by both battery and AC power.
2.Specificaton: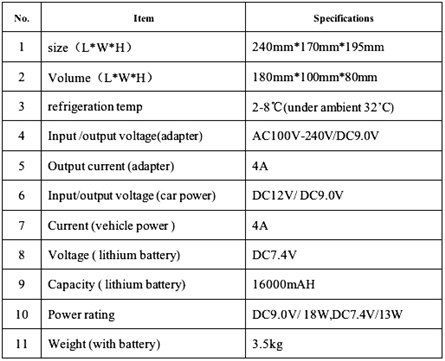 ◆Standard packing: 1pc cooler, 1 car adaptor, 1 charger, 1 batteries, 1 accessories bag.
◆Battery working time: Per battery working 6~8 hours under 35'C, battery is interchangeable and rechargeable.
Write a Review
Tell us what you think about this item and share your opinions with other people. Please make sure your review focuses only on this item. All reviews are moderated and will be reviewed within two business days. Inappropriate reviews will not be posted.
After-sales questions and issues: Contact our Customer Service Department. (A customer representative will get back to you).
Please Sign In first if you want to later edit or manage reviews uploaded by yourself.