ETCR2000+ Clamp On Ground Earth Resistance Tester RS232
Item No.:CR2000
The item is located in Sydney, Australia and we ship to you only 4-5 days, 3 years warranty. No shipping cost, no value
added tax
Buy it Now: AUD469.00
FREE Shipping
Manufacturer Specifications:
ETCR2000+ Digital Earth Resistance Tester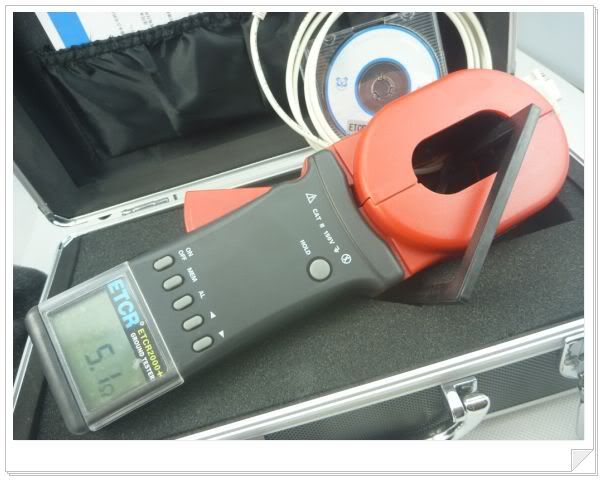 Characteristic:

1. Wider range: 0.01Ω-1200Ω

2. Stored data: 99 groups.

3. Resistance Resolution: 0.01Ω

4. Size of Jaw: 65*32(mm) / ø32(mm)

5. Sound and light alarm, "beep - beep - beep -" alarm sound.

6. Breakthrough in self-test the boot a long time to wait, start immediately into the test.

7. Breakthrough relay self-test mode, using the most advanced processing algorithms and digital integration technology, a fully intelligent.

8. Break the old product to heavy issues, more in line with characteristics of handheld devices.

9. The new design, panel 6 button operation, the performance through.

10. Lower power consumption: Maximum operating current not exceeding 50mA.



.Brief Introduction

ETCR 2000+ Earth Resistance Tester is widely used in the grounding resistance measurement of the power, telecommunications, meteorology, oilfield, construction and the industrial and electrical equipment.

ETCR 2000+ Earth Resistance Tester, in the measurement of a grounding system with loop current, does not require breaking down the grounding wire, and no need auxiliary electrode. It is safe, fast and simple in use.

ETCR 2000+ Earth Resistance Tester can measure out the faults beyond the reach of the traditional methods, and can be applied in the occasions not in the range of the traditional methods.

ETCR 2000+ Earth Resistance Tester can measure the integrated value of the grounding body resistance and the grounding lead resistance.



Technical specifications


Range

0.01-1200Ω

Resolution

0.001Ω

Sound and light alarm

"beep - beep - beep -" alarm sound, Flashing alarm symbol, By AL key to open, close, set

LCD

4-digital LCD, 47×28.5mm in length

Working temperature

-20-55

Relative Humidity

10-90

Explosion-proof mark

Exia BT3

Shift

Automatic Shifting

External Magnetic Field

40A/m

External Electric Field

1V/m

Single Measurement Time

0.5 second

Resistance Measurement Frequency

1KHz

The Measured Current Frequency

50/60Hz Automatism

Storable Measurement Data

99groups

Setting Range of Resistance Alarm Critical Value

1-199 Ω

Protection Level

Double insulation

Structural Feature

In the jaw way CT

Power Source

6VDC (4 ×5# alkaline battery)

Span of Jaw

28mm

Net Weight (including batteries)

1160g

Dimension

285mm long, 85mm wide,56mm thick

Accessories

Meter1 PCS Test Ring1 PCS Carrying Case1 PCS

RS232 adapterx1pcs
Write a Review
Tell us what you think about this item and share your opinions with other people. Please make sure your review focuses only on this item. All reviews are moderated and will be reviewed within two business days. Inappropriate reviews will not be posted.
After-sales questions and issues: Contact our Customer Service Department. (A customer representative will get back to you).
Please Sign In first if you want to later edit or manage reviews uploaded by yourself.