PPM300 BPON/GPON/EPON Optical Power Meter/fiber tester
Item No.:PPM300
The item is located in Sydney, Australia and we ship to you only 4-5 days, 3 years warranty. No shipping cost, no value
added tax
Buy it Now: AUD549.00
FREE Shipping
Manufacturer Specifications: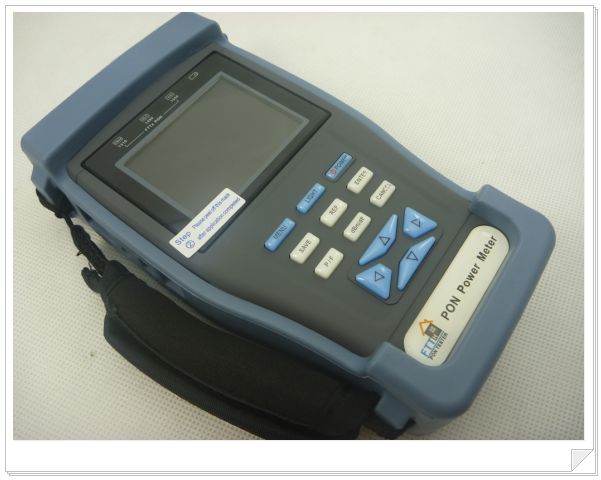 The PPM-300 is specially designed for FTTx /PON test of next-generation optical network which features handheld, intelligent and high performance


FEATURES

The only Power Meter truly designed for BPON,EPON,GPON networking structures.
Simply connect the fiber and read the results.
Simultaneous measurement of PON signals of 1310/1490/1550nm Wavelength - voice, data and video.
On-site test and measurement of PON signals, anywhere on the network without interrupting the services.
200 definable threshold sets to be named individually
Pass/ warming/ fail indicators for easy realization of pass/ fail analysis.
Upstream burst detection at 1310nm

Application:
1.FTTX Networks testing
2. PON Netwoks testing

An ideal tool for FTTx /PON pass-through and maintenance

Pass-through:
Measurement of all PON signals all the way during the pass-through stage to ensure they meet network standard.
● Pass-through connection and simultaneous measurement of all PON signals.
● filtered detectors for individual measurement of each wavelength.
● upstream burst detection at 1310nm

Maintenance:
During the daily maintenance phase, various transmission problems- fiber cuts, dirty connectors, fiber cuts,
macro bending, optical transmitter failure, etc. may cause signal loss or degradation.
● Flexible chosen test position
● Fault identification and isolation

Flexible Measurement on PON Networking Structure
On-site test and measurement of FTTx /PON power value anywhere on the optical network, PPM-20 can be used to test, install and maintain FTTx/PON networking systems

Simultaneous measurement and display of all PON signals
PPM-20 can simultaneously test three wavelength signals: upstream wavelength at 1310nm, downstream wavelength at 1490nm and 1550nm. Burst measurement function can correctly test burst power value of all upstream PON signal at 1310n

SPECIFICATIONS

Model

PPM300

Calibrated Wavelength(nm)

1310

1490

1550

Meas. Range (dBm)

+10~ -40

+10~ -40

25~-40

Spectral Passband(nm)

1310±20

1490±10

1550±10

Power Uncertainty (dB)

≤ 0.5

Accuracy (dB)

0.01

Insertion Loss (dB)

≤ 1.5

Fiber Type

Single-mode fiber

Connector Type

FC/APC(interchangeable SC,ST)

General Specifications

Data Storage

200 sets

Power Supply

Dual way power supply: NiMH rechargeable / AC adapter

Battery Life

≥ 70 hrs

Operating Temp.

0℃ to 50℃

Storage Temp.

-20℃ to 60℃

Relative Humidity

0 to 95% (non-condensing)

Weight

1.6 lbs (0.75kg)

Dimension (H×W×T)

196×100×44mm (7.7×3.9×1.7 inch)
Package included:PPM-300*1
Write a Review
Tell us what you think about this item and share your opinions with other people. Please make sure your review focuses only on this item. All reviews are moderated and will be reviewed within two business days. Inappropriate reviews will not be posted.
After-sales questions and issues: Contact our Customer Service Department. (A customer representative will get back to you).
Please Sign In first if you want to later edit or manage reviews uploaded by yourself.