RIGOL DS1062CA 60MHz DUAL CH DIGITAL COLOR OSCILLOSCOPE
Item No.:DS1062CA
We ship to you only 5-8 days,32 years Rigol warranty.



Buy it Now: AUD959.00
FREE Shipping
Manufacturer Specifications:
YOU ARE NOW BIDDING ON:
*BRAND NEW-FACTORY DIRECT*
RIGOL DS1062CA 60MHZ 2 CHANNEL
DIGITAL STORAGE OSCILLOSCOPE.
Rigol DS 1062CA 60 MHz Digital Storage Oscilloscope

Features:
The 2 GSa/s maximum real-time sample rate,the 50

Up to 2000 wfms/s refresh rate

Ultra Compact Design with small footprint save your

bench space

5.7' 64K TFT color LCD, bright and vivid waveform display

Memory depth: 10 kpts (Single Channel), 5 kpts (Dual Channels)

Versatile trigger modes: Edge, Video, Pulse Width, Slope, Alternate

Adjustable trigger sensitivity: Effectively filter noise from

trigger signal and avoid false trigger

20 automatic measurements

Cursor measurements: Manual, Track and Auto Measure

modes

10 waveforms, 10 setups, BMP and CSV storage

Math functions: Add, Subtract, Multiply, FFT, Invert

Special digital filter and waveform recorder

Built-in hardware frequency counters

Dual channels plus external trigger. Bandwidth including

60 MHz, 100 MHz, 200 MHz, 300 MHz

Standard interface: USB Device, RS-232;USB Host, to support USB disk and USB printer

Standard configuration: Pass/Fail test,the signal out of

Multi-language user interface, built-in help system
GSa/s maximum equivalent time sample rate and up to
300 MHz of bandwidth ensures you capture and observe
your entire signal
the
pass fail function is isolated to prevent unwanted
interference
Easy to Use Features:
Adjustable waveform intensity provides a personalized
waveform display




File System

Easy to use file system allows for both USB disk and local file storage
Versatile Trigger Modes:

Adjustable Trigger Sensitivity

The ability to filter

noise

from the signal

avoids false

Alternative Trigger

Provides a true dual time base display that was common
in analog oscilloscopes





Slope Trigger

Triggers on the signals

rise time or fall time that

Rise Edge and Fall Edge Trigger

Mainly used to view eye-diagrams

formally only available in more advanced DSO
Specifications: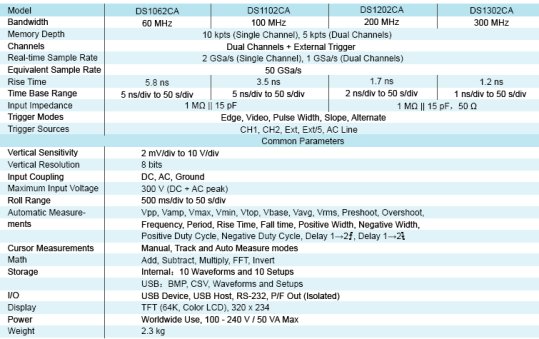 Logic Analyzer Modes:
Mixed Signal Oscilloscope (MSO) with 16 channels Logic Analyzer (LA). LA is divided into two
groups: D7-D0, D15-D8. Each works Separately.
| | | |
| --- | --- | --- |
| | | |
| Logic Analyzer Module | Pattern Trigger | Duration Trigger |
Signal Regeneration:
The DS1000CA series can be directly connected with the Rigol DG series function/arbitrary waveform generators. When connected with the built-in USB port of DS1000CA, the DG series function/arbitrary waveform can regenerate waveforms by visiting waveform memories of the latter's.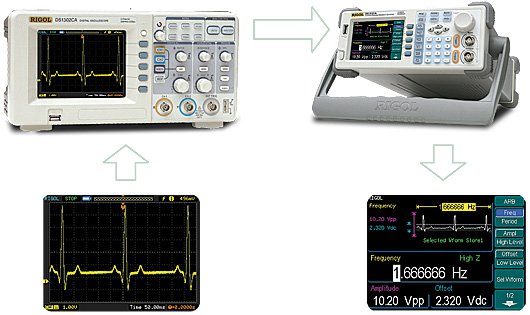 Advanced Performance:

Fast Sample Rate
DS1000A can capture fast signals with 2 GSa/S
maximum real-time sample rate and 50 GSa/S
maximum equivalent sample rate.


Fast Refresh Rate

Up to 2000 wfms/s refresh rate provides for superior
viewing of changing waveforms and sporadic events
Write a Review
Tell us what you think about this item and share your opinions with other people. Please make sure your review focuses only on this item. All reviews are moderated and will be reviewed within two business days. Inappropriate reviews will not be posted.
After-sales questions and issues: Contact our Customer Service Department. (A customer representative will get back to you).
Please Sign In first if you want to later edit or manage reviews uploaded by yourself.
Maybe you also like ...